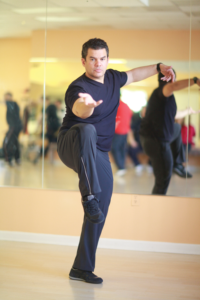 Stephan Berwick, an American pioneer in Chinese martial arts, is the founder of the DC-based True Tai Chi™ program, which is one of the few branch schools of the historic Chen Village Taijiquan Academy. Currently, Berwick built a Taijiquan program to help revive the culture of Washington, DC's Chinatown for the DC Mayor's Office of Asian Affairs.  He also teaches workshop for Amerihealth's "Wellness Circle"  community counseling programs for under-addressed populations. Berwick  also served as the Taijiquan instructor for the American diplomatic community at the U.S. Foreign Service Institute.
Berwick is a 13th generation Chen style Taijiquan expert, long recognized as an early proponent of mainland Chinese martial arts. An original student of the celebrated American Chen style Taiji master, Ren Guangyi, Berwick was also closely taught by top members of Taiji's founding family, the Chens of Chenjiagou, Wenxian County, Henan Province, China. In 2000, Berwick completed extensive primary research at the Chen family village in Henan Province, China which resulted in seminal publications that documented training methods, key personalities, and historical details never before published in English. Since 1996, Berwick published nearly three dozen authoritative articles on all aspects of martial arts. He is also the co-author of Practical Tai Chi, Taijiquan: 38 Form & Applications, Taijiquan Hand & Sword and the long-selling, Tai Chi for Kids, published by Tuttle.
In 2010, Berwick went on to write, direct the film and music for Final Weapon – the first dramatic action film (long form music video) that features authentic Chen Taijiquan, which starred Ren Guangyi, Hong Kong film legend Mike Woods, and features the music and an appearance by rock music legend and Chen Taiji disciple, Lou Reed.
Berwick served as the content advisor and lead narrator of the documentary film, Urban Dragons, which profiled African and Latin American practitioners of traditional Chinese martial art. The 2009 film documented the need and benefits of Chinese martial arts for at-risk and under-represented youth and adults. In 2015, he went on to introduce traditional Chen Taijiquan training to under-represented youth in Arlington, Virginia.
As an author with the leading alternative fitness publications company, Dragon Door, Berwick created and produced, "True Strength Yang", a body conditioning regimen, inspired by traditional Chinese martial arts body toughening techniques.
In 2006 Berwick was the first Western Chen Taijiquan instructor profiled in a cover feature of the scholarly Journal of Asian Martial Arts. Berwick has also been profiled in Black Belt, Inside Kung Fu and Kung Fu Tai Chi magazines.
From 1988-89, Berwick was one of the first Western martial arts performers in Hong Kong action films, working with the famed director Yuen Wo Ping and Asia's top action star, Donnie Yen.  He was also one of the first two Americans, along with Yen, trained and certified in both traditional and contemporary martial arts at the Sha'anxi Athletic Technical Institute in China under China's top-ranking competitive martial artist, Zhao Changjun and his celebrated coach, Bai Wenxiang in 1987. Previously, he was originally mentored by Yen's mother, the famed Chinese martial-arts pioneer, Bow Sim Mark.